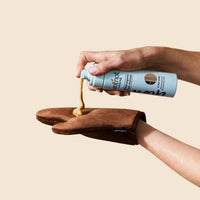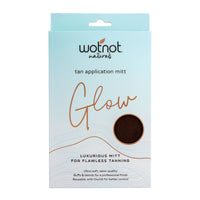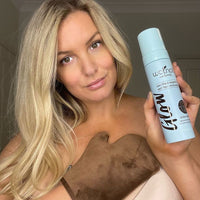 Description
THE SECRET TO A FLAWLESS GLOW: IT'S ALL IN THE TANNING MITT! 
Wotnot's tanning mitt is a luxurious, velvety soft glove that protects hands from staining and helps to blend and buff Wotnot tanning products for a flawless, streak-free, salon quality finish.
The velvet fibres in our mitt help ensure even distribution of tanning mousse or lotion for a salon quality result.
Plus, our mitt is double sided so suitable for left and right-hand use.
Benefits
✔︎ Velvety smooth finish ensures even and flawless application
✔︎ Designed to be used again and again
✔︎ Luxe fibres glide over skin
✔︎ Thumb allows better control
✔︎ Protects hands and wrists from awkward stains
✔︎ Double-sided feature ensures it can be used on both the left and right hands
Usage
Before first use, wash the mitt in water and allow it to dry thoroughly. For best results, use as part of a two-step process.
Step 1: Exfoliate gently and effectively using Wotnot body exfoliating mitt
Step 2: When skin is clean and dry, insert hand into tan application mitt. Apply Wotnot certified organic tanning mousse or lotion to mitt and gently glide over skin in a circular motion. Finish by gently patting down the colour for absolute perfection.
Please refer to our full application instructions in our certified organic gradual tan lotion and certified organic self tan mousse.
Wotnot's tanning mitt is intended to be used again and again, so between uses, all you need to do is wash the mitt in warm water with a mild soap and let it dry thoroughly before storing it away for next time. 
For best results, we recommend replacing your tanning mitt once the protective inner layer has deteriorated.
Imagined by you, created by us
CREATE A FLAWLESS, STREAK-FREE, PROFESSIONAL FINISH
Ensure even distribution of tanning lotion and help to buff skin as you go.