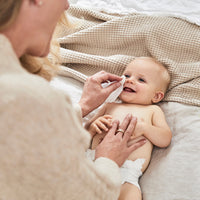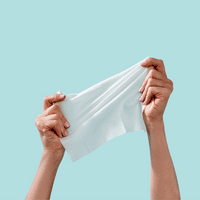 What's included?
Contains 20 EXTRA-LARGE 100% biodegradable and compostable baby wipes per pack (20cm x 20cm).
Description
ECO-FRIENDLY BABY WIPES

Our multi-purpose wipes are gentle enough for the whole family!
Enriched with natural vitamin E and Australian certified organic aloe vera to moisturise and nourish, Wotnot eco baby wipes gently cleanse without stripping natural oils.
Wotnot's biodegradable and compostable baby wipes can be taken anywhere: keep them on hand in the car or in your bag for a quick and convenient way to tidy up messes or clean dirty hands. 
Our non-toxic baby wipes are suitable for use by those with even the most sensitive skin, including eczema, rosacea, and psoriasis. Shop the best baby wipes for the environment online now with Wotnot.
Benefits
✔︎ Certified organic aloe vera
✔︎ 100% natural and biodegradable fibre
✔︎ Free from artificial fragrances or preservatives
✔︎ Free from sulphates, petrochemicals, parabens, caustics or glycols
✔︎ 100% chlorine free
✔︎ EXTRA-LARGE so you use less
✔︎ Ideal for sensitive skin
Winner of the Organic Expo 2010 GOLD MEDAL award
Ingredients
purified water, decyl glucoside (extra mild surfactant), certified organic aloe barbadensis (certified organic aloe vera), tocopheryl acetate (vitamin e), sodium citrate, citric acid, and silver dihydrogen citrate (extra mild preservative).
100% bamboo! Bamboo is one of the most sustainable resources on the planet. Trees can take up to 15 years to reach full height, but a year after we trim our bamboo, it will have grown back and can be harvested again.
Imagined by you, created by us
EXTRA CONVENIENT FOR EXTRA DIRTY LITTLE ONES
Let's face it. Our kids can be pretty gross. Our 100% biodegradeable wipe is the largest in Australia. One does the job of two - more with less. You also won't find our wipes blocking sewers or choking our reefs and marine life with microplastics as they break down naturally.