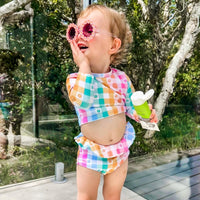 Sunscreen Bundle + Travel Wipes
Description
PROTECT EVERY MEMBER OF THE FAMILY WITH OUR SUNSCREEN BUNDLE

Save more than 17% on individual items with our sunscreen and travel wipes bundle!
The perfect family bundle: protect your skin from top to toe with Wotnot's range of reef-friendly, certified organic sunscreens.
Our baby sunscreen is specially formulated for young, delicate skin, while our face and body sunscreen is suitable for all skin types - including even the most sensitive skin.
Packed with natural oils and offering deep hydration and moisturisation, our sunscreen is even suitable for skin conditions including eczema, psoriasis and rosacea.
BENEFITS
✔︎ Save when you buy in bulk!
✔︎ All your essential Wotnot sun protection products in one bundle
✔︎ Ideal for use by any member of the family
✔︎ Sunscreen and wipe products are suitable for even the most sensitive skin
WHAT'S INCLUDED
1 x 30 SPF Anti-aging Facial Sunscreen + BB cream 60g 
1 x 30 SPF Natural Baby Sunscreen 100gm
1 x 30 SPF Natural Family Sunscreen 150gm
1 x Natural Travel Wipes Hardcase (20 wipes)
1 x Natural Travel Wipes Softpack refill (20 wipes)
Imagined by you, created by us
OUR TOP TIP
Remember to apply sunscreen 20-30 minutes before going out in the sun. This allows the sunscreen to reach each layer of the skin and provide maximum protection.